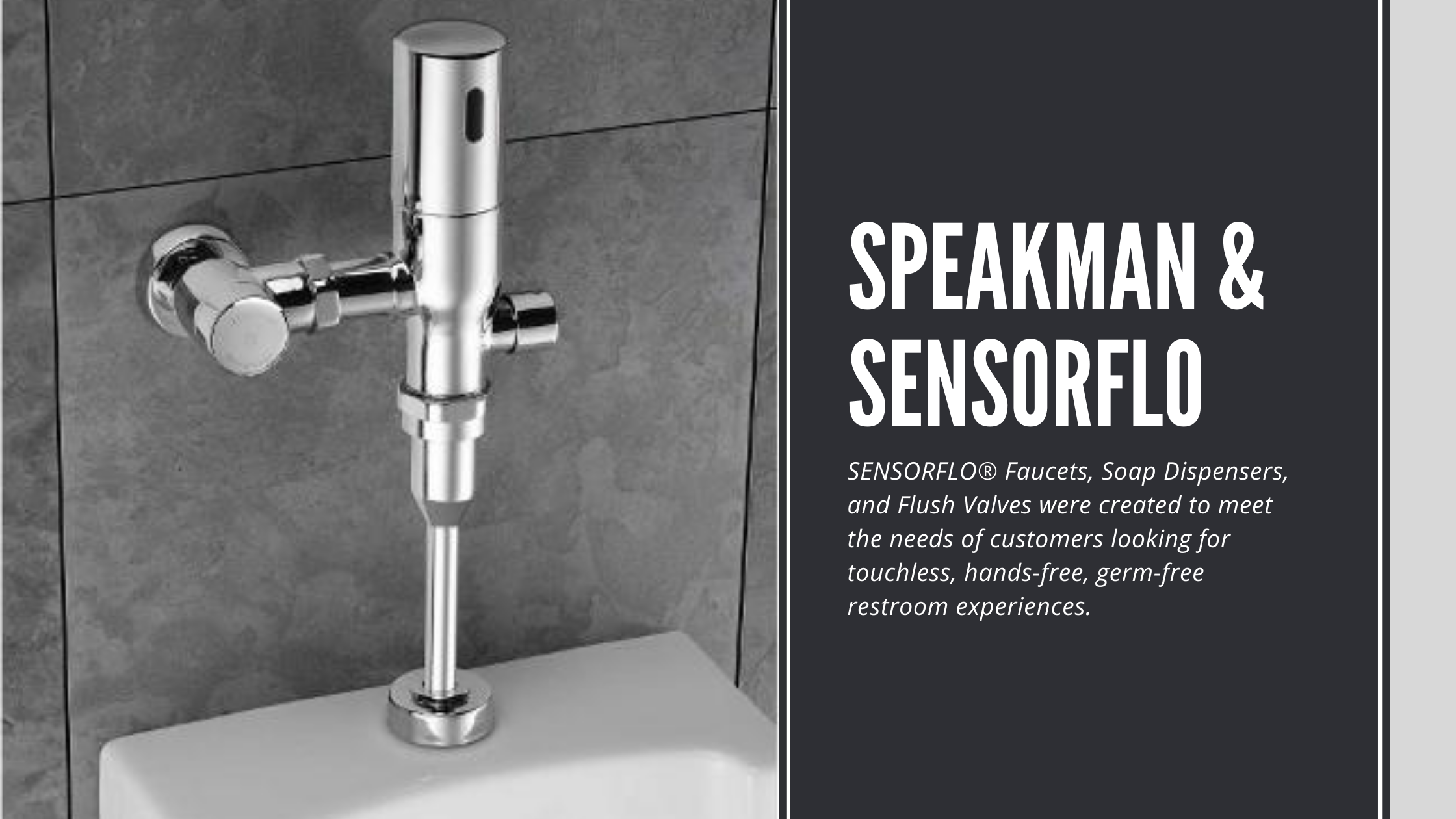 The foundation of Speakman was built in 1869 on an extensive portfolio of durable, high-performance commercial fixtures. It was that underpinning of superior quality, thoughtful innovation, and unrivaled performance that allowed Speakman to invent timeless designs (like the AnyStream Shower Head, introduced in 1927), well-curated collections (like the simple stylings of our Lucid collection), and reliable emergency equipment (like our EyeSaver emergency eye wash, celebrating its 21st anniversary). For 150 years, Speakman products have elevated the design and performance of hotels and commercial projects around the globe. Commercial plumbing is in the DNA of Speakman.
Speakman continues our tradition of commercial excellence with our SENSORFLO® Faucets, Soap Dispensers, and Flush Valves, sensor-operated fixtures that are designed and engineered in accordance with the highest quality and performance standards. Created to meet the needs of customers looking for touchless, hands-free, germ-free restroom experiences. Upgrade health standards and redefine the entire restroom experience in public restrooms, medical buildings, government facilities, hospitality settings, and more.
Day to day, faucets are handled more than any other fixture on any property. With faucets, longevity is key, which is why it's incredibly important to select items that will stand the test of time. Our SENSORFLO® line of commercial faucets is known as the workhorse of our entire selection. These products have been devised and engineered to the highest standard for efficiency and ability to repel vandalism. Each shell has been constructed from brass and metal materials to provide unrivaled durability. This is SENSORFLO®, a better faucet, inside and out.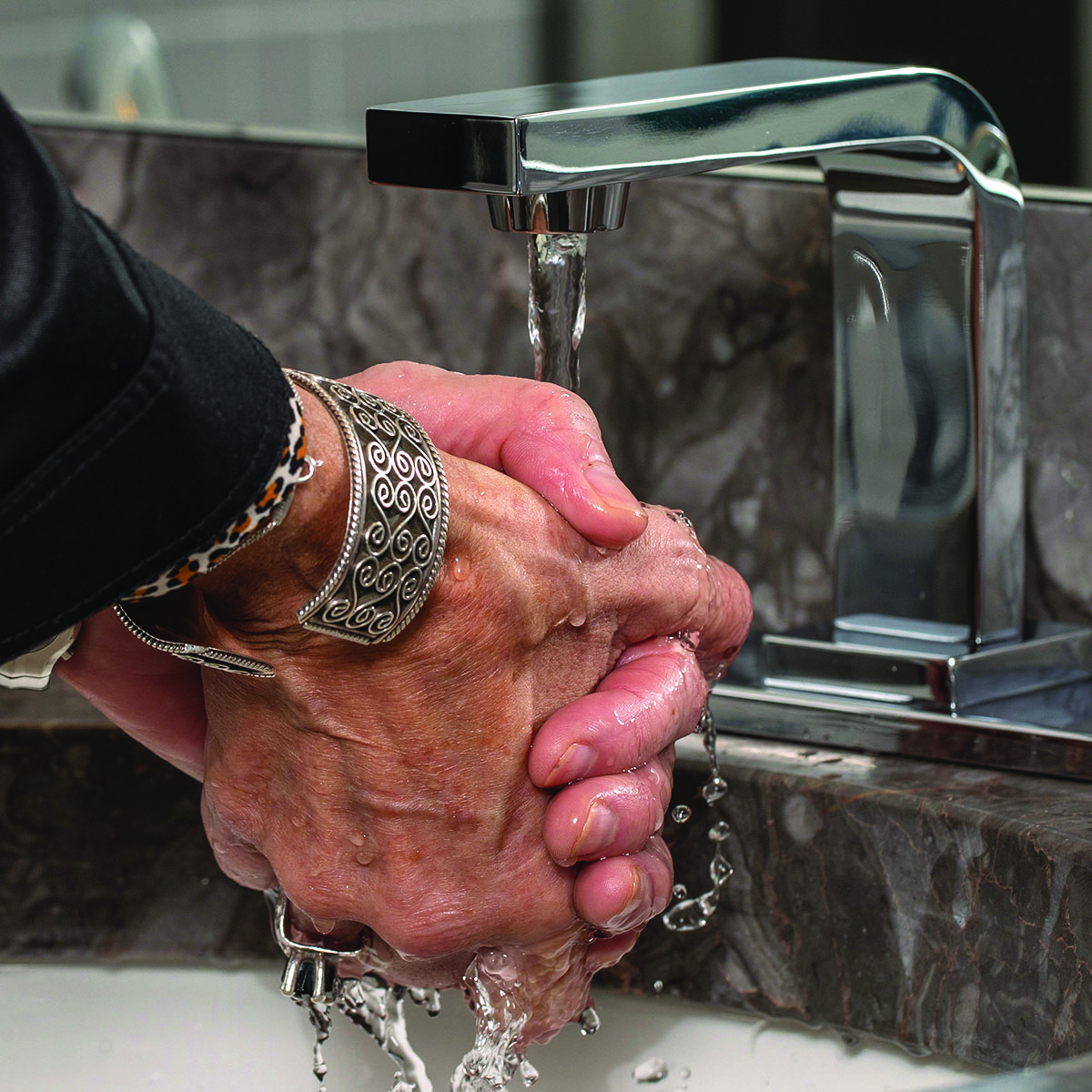 On top of that, Water savings of up to 85% are possible with the use of a sensor faucet due to the quick automatic shut-off functionality.
SENSORFLO® flush valves offer a hands-free automatic flush that helps provide a clean, sanitary environment to help make patrons feel safe about the hygiene of the facility.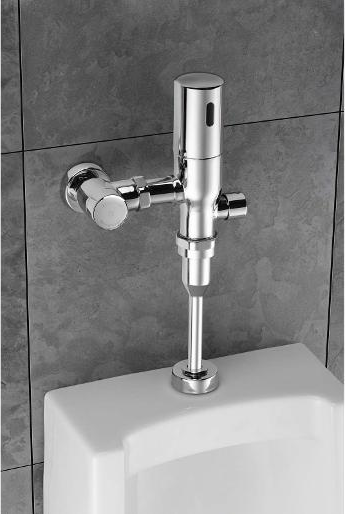 Available for water closets and urinals, Sensorflo Flush Valves offer easy installation and require minimal maintenance over the lifespan of the product. Built using Speakman's proven sensor technology, the valves deliver long-lasting performance. Once installed, the valves' vandal-proof features and built-to-last, chloramine-resistant components make the upkeep worry-free and keep high-traffic bathrooms clean.
Various configurations meet a range of application needs, including full battery operation or a hardwired setup with a battery backup. Battery-powered models are ideal for installation where power outlets are not accessible. They feature a low battery indicator light to notify the maintenance staff that the battery needs to be replaced. It flashes once per second when the battery is low, twice per second when it's critically low. A backup battery is also included. Hardwired installation models provide no-hassle, reliable operation flush after flush without the need to replace batteries. Manual override buttons are located on the side of all units.
Durable, dependable, and long-lasting: SENSORFLO® flush valves from Speakman deliver the commercial-grade performance you can count on.
A completely touch-free bathroom can easily be created by combining Speakman SENSORFLO® faucets and flush valves with SENSORFLO® soap dispensers. In fact, Speakman now features combination units, designed to retrofit into a 4" center, that have the faucet, soap dispenser, and deck plate.
SENSORFLO® soap dispensers are hygienic, sensor-operated fixtures utilizing the most up-to-date laser technology, providing efficiency in activation and shut off while requiring minimal sensor area. You can expect reliable operation as our solenoid has been tested up to 2.7 million cycles.
Speakman has always been perfect for commercial as Speakman fixtures are designed to endure the demands of everyday life and then some.