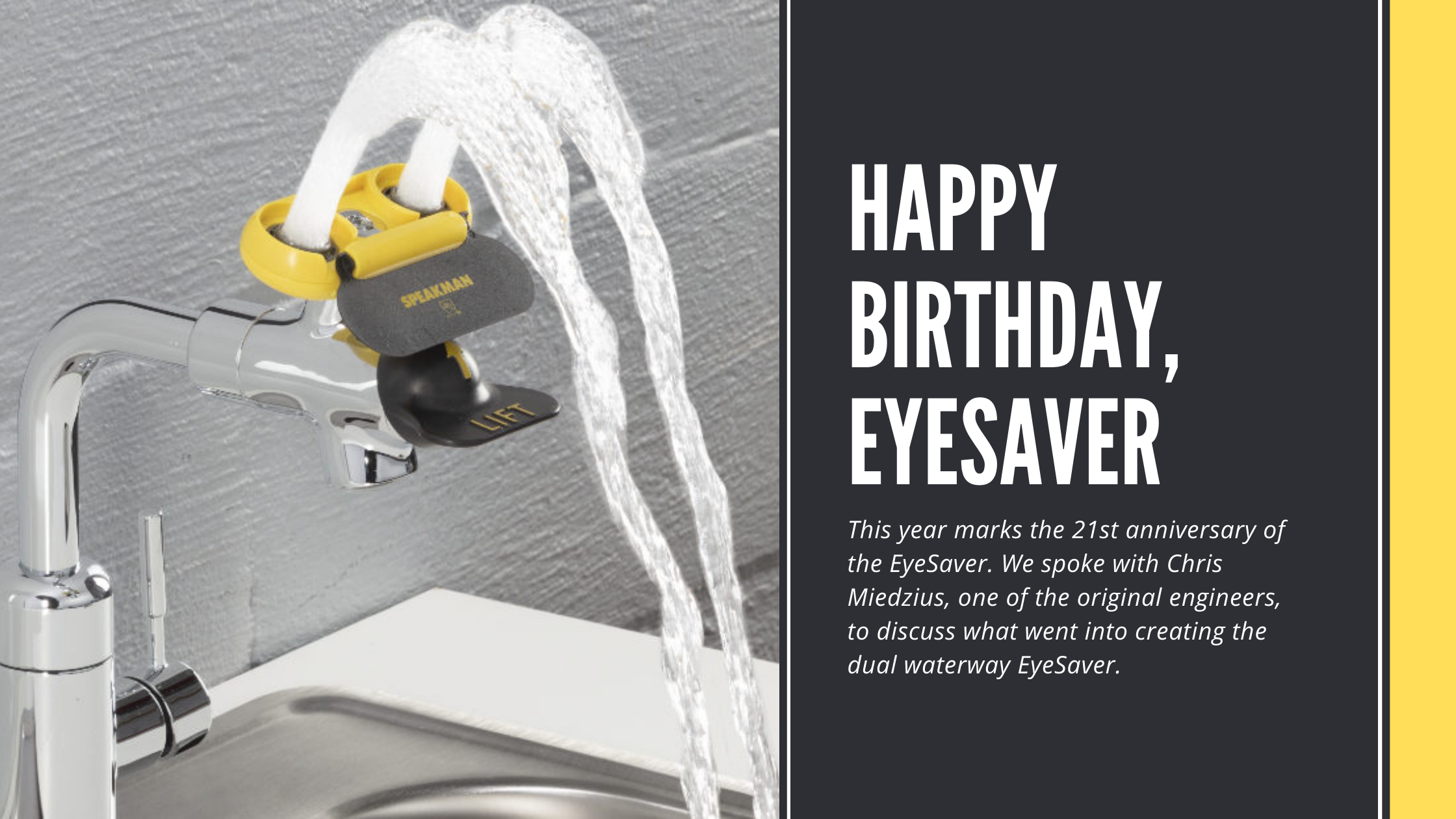 This year marks the 21st anniversary of Speakman's patented dual waterway EyeSaver eyewash.
The Speakman Eyesaver is the original patented eyewash and faucet combination with dual waterways that easily installs on an existing sink. It incorporates two separate water channels in the faucet body, one for the eyewash and the other for the faucet. When combined with a thermostatic mixing valve, this dual design ensures that the integrated eyewash delivers a consistently safe, tepid water temperature when flushing the eyes while Speakman's signature Optimus aerated spray creates a gentle cleansing experience for the affected eye area.
In honor of the EyeSaver's 21st birthday, we spoke with Chris Miedzius, Engineer and Director of New Product Development at Speakman, to discuss what went into creating the dual waterway EyeSaver.
"At the time we developed this," Chris says, "there was no comparable product out there in the market. We had to be creative in the engineering to develop the features and have it operate as we wanted.  There were challenges in the material selection, fabrication and testing to assure consistent production runs."
Chris goes on to say the engineering process involved a lot of machining, soldering, and pipe bending.
"Got wet a lot too," he says, "Had the cleanest hands and face around."
But engineering emergency equipment is about more than just being creative. It's about meeting industry standards. The issue was, the EyeSaver was so new that there were no industry standards.
"Plumbing products," Chris says, "including safety products, are third party certified. That means that an outfit like IAPMO [The International Association of Plumbing and Mechanical Officials] will test our product against required industry standards to assure they meet certain regulated requirements. This product was very new and there was not one standard that covered this… IAPMO had to create a document to cover this type of product. This was IGC 272 which this product is certified to."
As IAPMO says, sometimes new products or technologies surge ahead far faster than most standards can keep pace. Speakman's dual waterway EyeSaver was one of those.
"We were really [the] first to market with this type of product and ended up patenting it," Chris explains, "The patent goes back over 20 years [now] and [they] are only good for roughly that long. With the patent expired, we are now seeing competitors bringing to market similar products."
How did Chris feel knowing other companies were using his original design in their newer products?
"As they say, imitation is the best form of flattery."
With tens of thousands of people experiencing work-related eye injuries every year, emergency eyewash stations play a critical role in any work facility where chemicals are handled or stored.
Understanding that workplace safety is more paramount than ever, Speakman expanded its lineup last November with the SEF-1880 EyeSaver.
"Providing employees emergency eyewash stations is critical in environments that involve hazardous substances," says Cathy Gutkowski, Speakman's director of Commercial Plumbing. "In the ever-changing landscape of fluctuation demand and production, our EyeSaver products make it easy to maintain or scale up the safety equipment if needed."