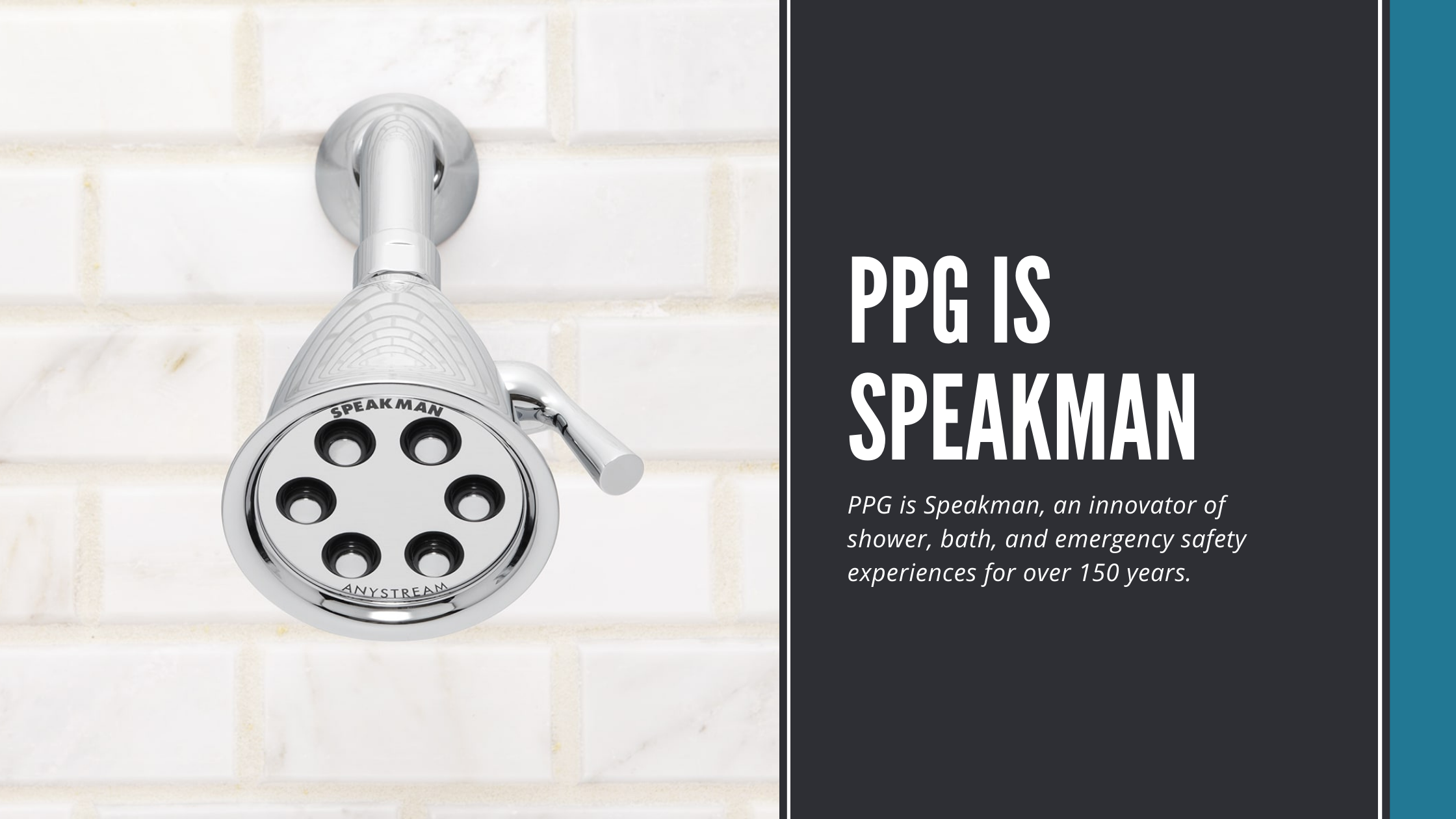 In 1869, Allen and Joseph Speakman opened a small plumbing workshop in Wilmington, Delaware. Devoted to their craft, they would go on to create the world's first adjustable shower head, the Anystream Shower Head, introduced in 1927.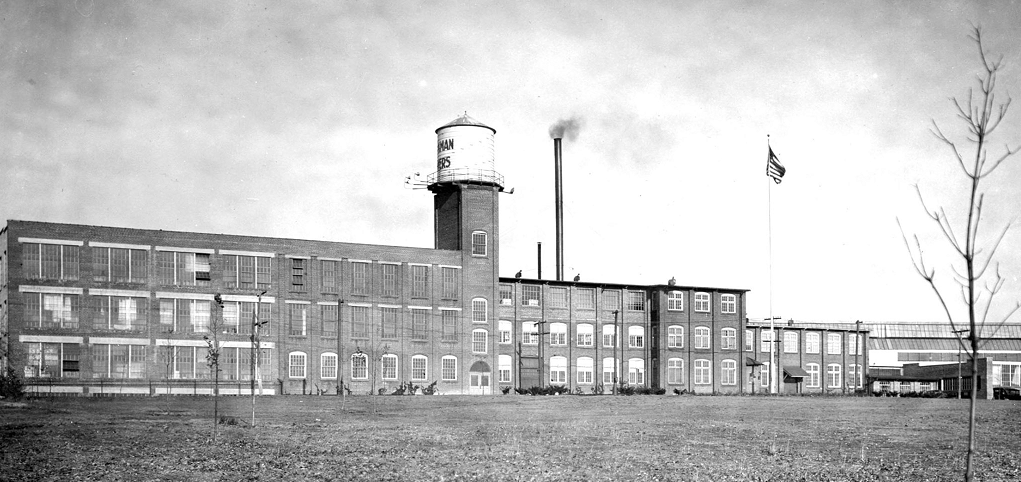 With the turn of a lever, the Anystream Shower Head effortlessly allows users to change the shower head's spray settings to the stream of their choice, thus the name. Whether that be an invigorating massage spray to wake you up in the morning, a gentle rinse created to replicate a relaxing rain shower, or a heavy soak designed to drench every inch of your existence.
The Anystream Shower Head, advertised in a series of National Geographic ads run in the 1930s, helped to change the way America thought of showers, popularizing the "shower bath", as it was called, over the traditional soak in the bathtub.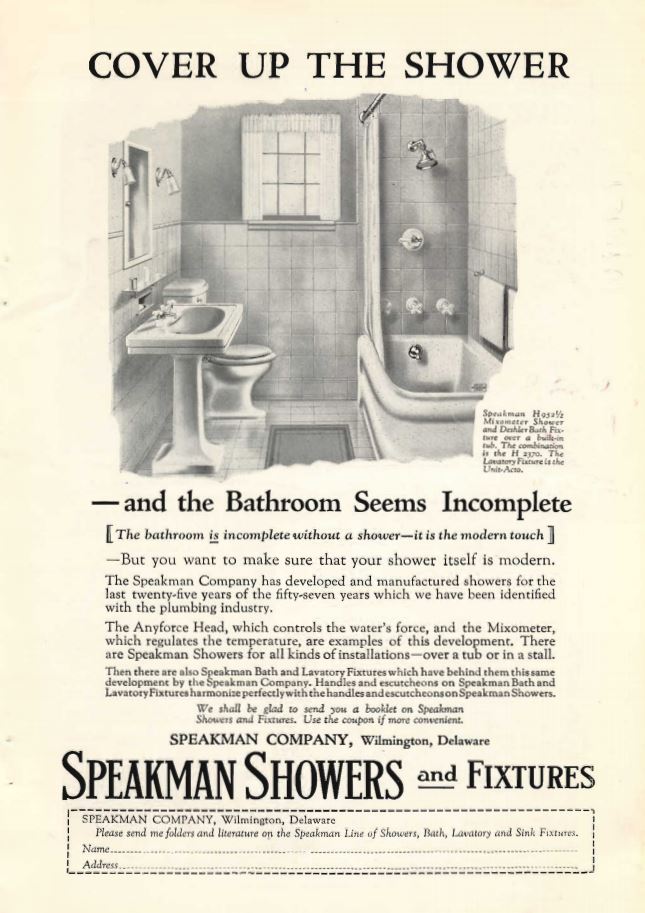 As showers and Speakman shower heads became more popular in the home, the Anystream shower head became a regular fixture in hotels around the globe, due in large part to its self-cleaning capabilities. To this day, Speakman shower heads continue to be utilized and beloved by resorts all over the world. If you've taken a shower in a hotel, you've most likely already used a Speakman shower head.
With patents for more than a hundred designs, Speakman continues to pioneer innovations not just for showers but faucets, emergency safety equipment, and more.
Though Speakman isn't only about performance. Architects and designers have used and worked with Speakman to create simple, beautiful, elegant designs that stand out in any bathroom.
Award-winning designer, Clodagh, joined forces with Speakman to create the Lura Collection, an assortment of classic bathroom fixtures featuring a modern twist. Minimal and industrial design comes together to create crisp lines and pronounced curves that are ideal for traditional home bathrooms and contemporary commercial restrooms alike.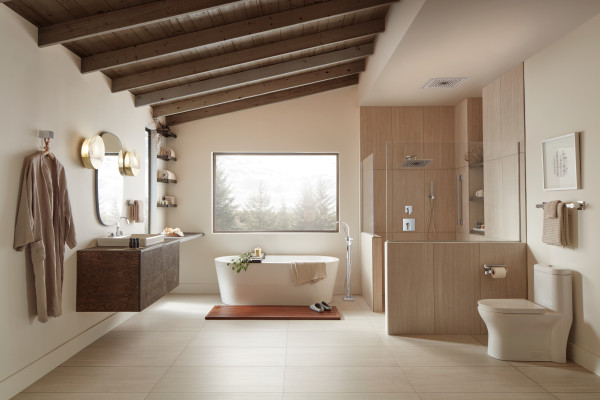 Renowned hotel and resort designer, Roger Thomas, teamed up with Speakman to produce the Vector Collection, an assemblage of modern bathroom fixtures that guide the eye throughout the lavatory to create a visual experience that's enticing at every angle.
With more than a century and a half under its belt, the Speakman Company continues to build upon its expertise in showering while releasing new products for the entire bathroom, including new eco-friendly products, as well as the kitchen.
Only recently, Speakman adapted its touchless technology utilized in commercial bathrooms for the home with the release of the Speakman Sensor Kitchen Faucets. In today's world, hygiene and safety are more important than ever. Touchless sensor faucets are an easy way to add some peace of mind when it comes to preventing the spread of germs.
However, this is not Speakman's first foray into safety and peace of mind. Since 1869, Speakman has been designing emergency equipment that delivers superior performance, ensuring a safe facility as well as 100% ANSI and OSHA compliance.
Like Speakman's emergency showers, rigorously tested to deliver a drenching barrage of water in the event of a crisis.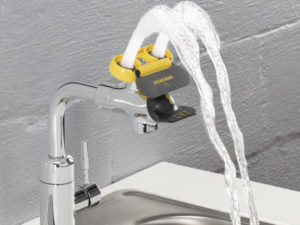 Or Speakman's patented dual waterway EyeSaver eyewash, celebrating its 21st anniversary this year. With tens of thousands of people experiencing work-related eye injuries every year, emergency eyewash stations play a critical role in any work facility where chemicals are handled or stored. The Speakman Eyesaver is the original patented eyewash and faucet combination with dual waterways that easily installs on an existing sink. It incorporates two separate water channels in the faucet body, one for the eyewash and the other for the faucet. When combined with a thermostatic mixing valve, this dual design ensures that the integrated eyewash delivers a consistently safe, tepid water temperature when flushing the eyes while Speakman's signature Optimus aerated spray creates a gentle cleansing experience for the affected eye area.
Whether it's lifesaving emergency equipment, beautiful bathroom products built to last, or the best-in-class shower head, Speakman invites you to explore our diverse assortment of fixtures and products perfectly engineered for performance and style.